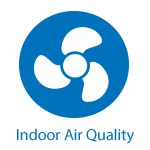 If you asked every Massachusetts homeowner what their favorite part of the spring season is, they definitely wouldn't say it's the allergies! The good news is that allergens – such as pollen, dust, pet dander, and more – can be kept away from the air inside the home with a whole-house filtration system!
This system is especially useful for households with residents who suffer from asthma or other respiratory illnesses, or are more susceptible to the effects of airborne contaminants. Before you start your spring cleaning, consider keeping your air clean, too!
With a whole-home air filtration system, you'll get…
Healthier air – Even the smallest particulates can be efficiently removed from the air in your home, including mold, germs and other bacteria.


Odor elimination – Help your home smell fresh! Air purifiers remove common household odors, such as pets, smoke, food smells, and more.


Dust removal – One of the biggest causes of sneezing fits! Air purifiers help remove the dust that's being circulated through your HVAC system.


Prolonged system life – With fewer particulates making their way into your heating and air conditioning systems, they're running more efficiently and not working as hard as systems dealing with dust and more. This reduces the need for frequent service calls.
When it comes to clearing the air in your home, we have options! We work with some of the top manufacturers of home comfort equipment, including Lennox, Aprilaire, and Honeywell. Have you begin your spring cleaning, yet? Give yourself less work to do with a whole-house air filtration system! Contact us online today to learn more.