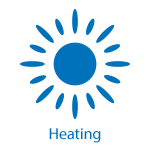 Sometimes, repairing your furnace isn't enough to get it running properly again. Other times, it is! There's no telling for sure what your home heating equipment needs before we get a good look at it, but there are indicators that could help us along the way! Let's take a look at some signs that your equipment might need a simple repair or a complete replacement.
Your furnace might need a repair if there's…
Dusty air blowing around
Inadequate airflow
Cool air instead of warm
Odd noises or smells
Increase in fuel consumption
Your furnace might need to be replaced if…
It's more than 20 years old
It requires frequent repairs
There are cold spots throughout your home
You notice a yellow flame instead of blue
The furnace is rusting or cracking
Keeping your furnace in good health is essential to avoiding a premature system breakdown that requires a replacement. Luckily, our comprehensive service plans go a long way to help! Preventative maintenance, which is included in our plans, is key to staying ahead of catastrophic issues and boosting your system's efficiency and lifespan. Not sure if your furnace is ready for replacement? Or, maybe you want to enroll in a service plan? Contact us online today!