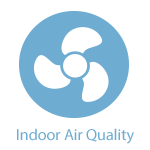 Many Massachusetts homeowners are spending more time at home, so it's in their best interest to make their home a safe space from viruses, germs, bacteria, mold, dust and other contaminants that contribute to poor indoor air quality – especially while still dealing with the uncertainty of the COVID-19 pandemic.
We're proud to carry multiple indoor air quality solutions that bring customers the peace of mind they're looking for, including:
Air purification systems, such as the PureAir™ Purification System combats airborne particles, germs and bacteria, and chemical odors and vapors. This equipment filters out more than 95% of particles, removes 90% of germs and approximately 50% of household odors and chemical vapors within a 24-hour period.


UV germicidal lights destroy mold, mildew and bacteria that settle within the ductwork of your heating and cooling system as well as on the equipment itself. Not only do these lights keep your equipment and system clean, they keep it running efficiently and prevent the circulation of contaminants into the home.


Typically during the winter your home is sealed up tight to keep the cool air out. But this also prevents any fresh air from coming in! Heat recovery ventilators let you enjoy fresh air without having to sacrifice your comfort during the heating season.
Make your home a comfortable place with the latest indoor air quality solutions from North Shore Fuel! Contact us online or give us a call to learn more.