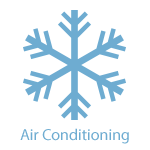 There's no denying that running an air conditioning system all day can cause the utility bill to spike, but the alternative to that would be tolerating the summer heat and humidity. However, what if we told you there were other ways you could lower your cooling costs, so you can enjoy your comfort equipment without worry? It's true - and we can help!
Let's see what we can do to help manage your cooling costs:
Tune-Ups
Regular maintenance improves equipment efficiency, which means less energy used up to keep you as comfortable as you need to be!
Upgrades
New equipment boasts higher efficiency ratings! Once again, the better the efficiency of your equipment the less you'll spend on cooling costs. Consider upgrading your AC system if it happens to be more than a decade old.
Home Automation
Putting your comfort system's control into the palm of your hands with our Connected Home automation products and services gives you the ability to track, adjust and maintain your home's energy usage.
Humidity Control
The summer humidity makes it hard to get comfortable and the result of that is often homeowners turning up their AC system. With proper humidity control, such as with our whole-home dehumidification system, you'll feel cooler even with the AC set lower.
And what can you do to manage your cooling costs?
Use ceiling fans to circulate the air instead of relying solely on your AC system. This will allow you to lower the AC without missing out on comfort.


Change the air filters to allow for better airflow and improved coverage


Install a programmable thermostat and try to avoid manually overriding any schedules you set up


Replace old and worn insulation in the attic to keep conditioned air within the living spaces of the home


Use weatherstripping and caulk to seal around window and door frames

Together we can make turning on your air conditioning system something you and your wallet don't have to be concerned about! For more information on tune-ups and upgrades, call or contact us online.