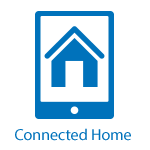 Winter is the season during which Massachusetts homeowners need to be more diligent when it comes to watching out for water damage and leaks. Why? Because frozen pipes due to the dropping temperatures increase the chance of water leaks and burst pipes!
The best way to prevent floods and water damage is with early detection. The fastest and most accurate way to prevent any plumbing-related flood damage is with our Connected Home Water Protection Package. Here's how it works:
Five water sensors are installed throughout the home. These sensors make it possible for the system to detect a water leak.
When a leak is detected, the Z Wave automatic water shut-off valve turns off the water main, preventing significant water damage and flooding.
Our Connected Home will send an alert to the homeowner's smartphone, so whether they're home or not they can begin resolving the issue.
Homeowners can save thousands of dollars in repairs with this package, which has everything necessary to help prevent water and flooding damage, including:
1 Z Wave Automatic Water Shut-Off Valve
5 Water Sensors
1 Heating/Cooling Hub and Smart Thermostat
2 Temperature Sensors
1 Automated Door Lock
Let us help protect your home this winter from the risks of low temperatures to your home plumbing system! Call or contact us online today to learn more about our Water Protection Package.