We Keep You Informed!
At North Shore Fuel, we believe in the power of keeping you informed. We publish a seasonal customer newsletter, The North Shore Fuel Report, that educates you about energy conservation and brings you up to date on new products and services. We also bring you important company news and fun competitions where you can win gift certificates and other prizes.
Please watch your mail for the next issue of The North Shore Fuel Report. We're sure you'll appreciate the information we provide.
In This Issue: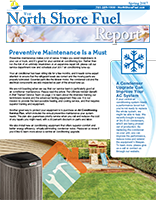 Preventive Maintenance Is A Must
A Condenser Upgrade Can Improve Your AC System
The Ultimate Hidden Benefit: A Well Trained Service Team
You Don't Have To Wait For A Water Heater Leak
Service Plans = Peace of Mind
A Ductless Heat Pump Is Often the Perfect Solution
We Have You Covered North, South, East & West
Service Team Installs Heating System For Veteran

 Click here to download the PDF file


Past Issues
Please note: you must have pop-ups enabled to view/download our newsletter.